Climate Justice is Gender Justice
November 3, 2022 @ 6:30 pm

-

8:30 pm
ALL welcome!
This is the second event of a 3-part series exploring various aspects of climate justice. We can't tackle climate change without tackling gender justice, and, as we'll see, gender intersects with lots of other issues too.
We will hear from expert speakers from Scotland, England, and Nigeria who will present feminist responses to the climate crisis and explain how they use their voices to fight for gender justice and equality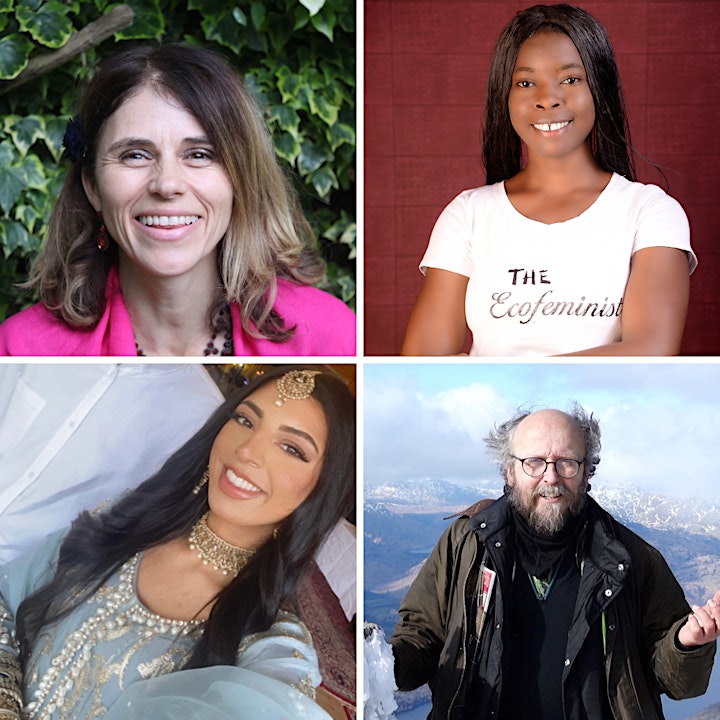 From top left to bottom right:
Kate Metcalf, Co-Director at Women's Environmental Network, London, England
Kate has over 20 years experience developing community and international networks within international development and environmental organisations with a focus on gender and social justice. Kate leads Wen's Feminist Green New Deal project, a joint project with the Women's Budget Group, aiming to ensure that women and marginalised groups are central to the green economy.
Oladosu Adenike, Founder of I Lead Climate Action Initiative, Ecofeminist, Ecoreporter & Climate Justice Leader, Nigeria
Oladosu specialises in peace, security and equality in Africa especially in the Lake Chad. Championing a green democracy across Africa, Adenike has showcased her climate action in both international, national, regional & local fora. Oladosu was Nigerian Youth Delegate at COP25 & COP26 on climate finance.
Aniqah Ali, Podcaster / Interviewer and Climate, Racial and Gender Justice Activist, Glasgow, Scotland
Aniqah is a 25 year old second generation British Pakistani woman working in youth work. Aniqah created a podcast during COP 26 around climate crisis and sustainability in the global south – talking to women from the global south and how this affects them.
Rev David Coleman, Environmental Chaplain, Eco Congregation Scotland
David is a special category minister of the United Reformed Church, working ecumenically with Christian congregations, colleges and communities from the borders to Shetland, and with special interest in work alongside faith groups with similar concerns. David works full time to encourage churches to develop their relationship with the Earth. He is also a member of the Iona Community, and active in writing, and digital media supporting his work. He is a widower, with two dependent adult children, based in a Church of Scotland House in Edinburgh.
Register here